Hello,
PLEASE HELP MY SON FROM BLOOD CANCER.
Iam MAHETAR KUMAR, residing at D-no 1-35, Charopalli village, Nallamada mandala, Anantapur district, Andhrapradesh 515501. Iam an FARMER, and my wife also help me in agriculture field. My son is SUFFERING from ACUTE MYELOID LEUKEMIA. The Treatment is around 6-8 Months. The treatment cost around 8 Lacs.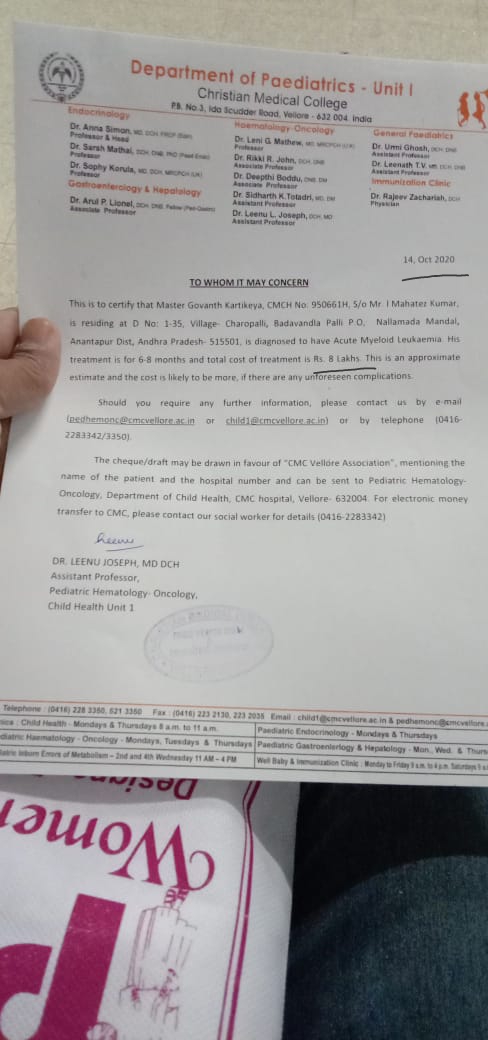 We already spent 3 lacs till now, we took loan, friends support and sold our Jewels too. But that was not sufficient for treatment. We almost tried reaching CMRF FUNDS for treatment, but even that was difficult. Currently the kid is being treated in CMC HOSPITAL, VELLORE.
My son date of birth is 01-04-2019, 1year 7months old. My Son was Suffering with FEVER AND ECCHYMOSES Since 25days.
Please help us as much as you can for the treatment, your prayers and blessings are also very important to us. Every penny counts and I'll be very thankful to each and everyone. Please understand my situation and come forward and donate as much as you can.